BALDOR DRIVES THE NYC RESTAURANT SCENE
Don't feel bad if our name doesn't ring a bell. We only sell to chefs, so it's unlikely you would have heard of us. You may, however, have seen our trucks around town. Once you start looking, they're everywhere.
We're a homespun, local company with a major East Coast footprint. We make deliveries all the way from Maine to Virginia, but NYC is our home turf. We started out back in the 1940's as part of the iconic Greenwich Village retail store Balducci's, where we were a cult favorite with figures like Julia Child, James Beard and Mario Batali. Our customer base includes more than 4,000 restaurants, cafes, bakeries, schools and grocery stores in the five boroughs alone. We also do airports. In fact, chances are good that we supplied the ingredients in the dish that you just ordered from this iPad!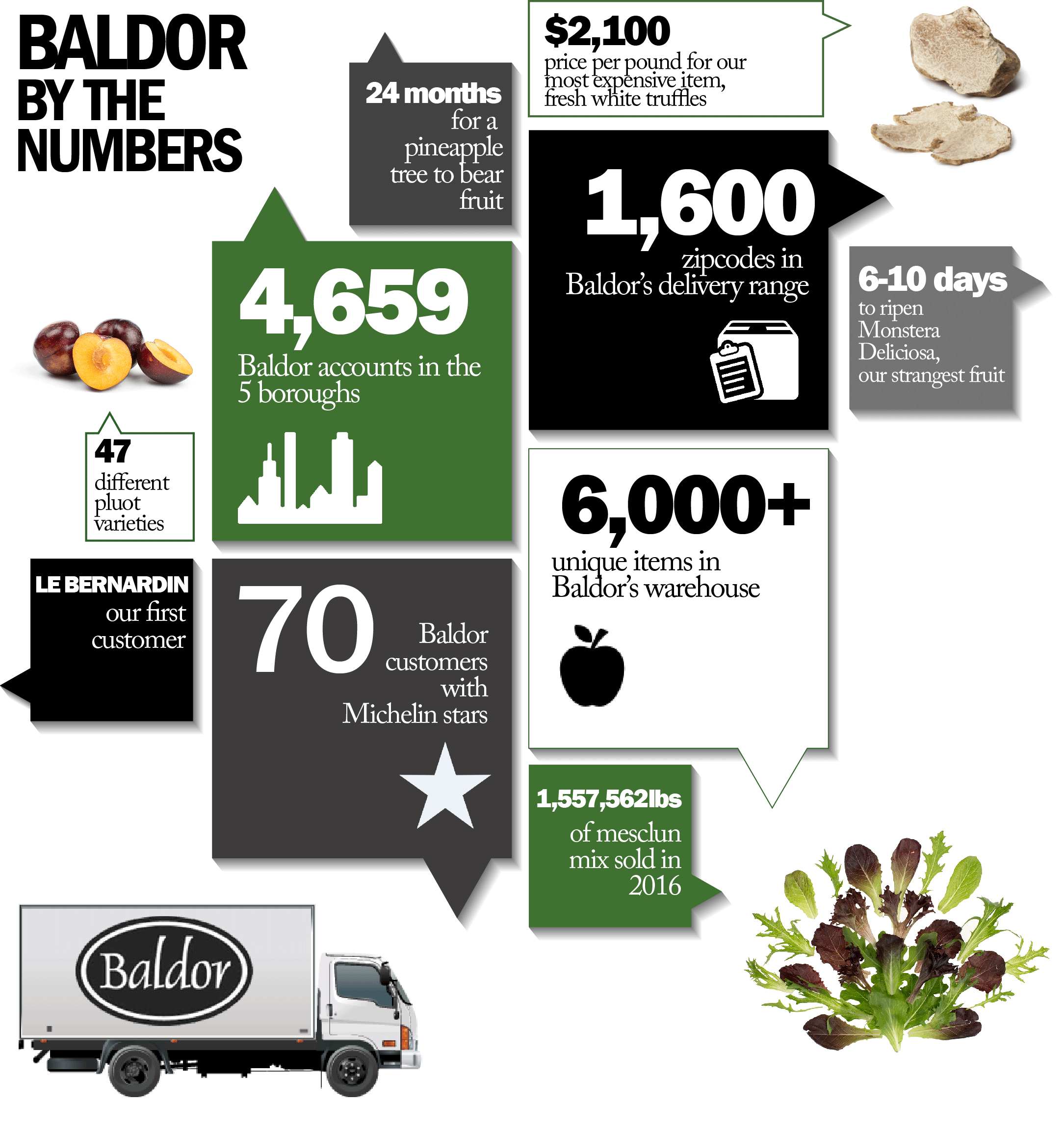 Spot a Truck, Win a Prize
As we mentioned, our trucks have quite a presence in New York. Next time you see a Baldor truck, snap an image on Instagram and tag us along with the hashtag #baldorspotted. You could win dinner for two at an iconic NYC restaurant.
Top Produce Picks
(the following items are worth Googling while you wait for your meal…)
Harry's Berries—The best strawberries in America.
Honeynut squash—Meet the butternut's more delicious cousin, developed specifically for Chef Dan Barber of the restaurant Blue Hill.
Moon Drop Grapes—Seeing is believing with these surreal, elongated grapes.
Little Gem Lettuce—These crisp miniature head lettuces will make you rethink your salad strategy.
Get Connected!
Are you a food industry professional? Learn how to join the Baldor family here.